About Kate
I live in Sacramento, California, with my husband, baby, and a very small parrot. I earned degrees in English and Art Studio from UC Davis, where I appreciated getting to spend many hours in the photography lab, the arboretum, and Shields Library's window seats. As part of my education (inspiration for art class...so I convinced myself), I got my first Disneyland annual pass while I was in school; now I'm discovering the joys of introducing my baby to Disneyland.
I'm an editor-turned-mom, and also a writer for an online Disney-focused newsletter, Magically Speaking. I've edited and contributed to documentary scripts for the Extinct Attractions Club, creators of Disneyland history DVDs, and recently helped with the documentary script for Walt Disney's Carolwood Barn. My five years as a project editor at Prima Games have given me a great appreciation for the publishing process. I'm thrilled to combine my interests in writing, editing, and publishing – and a lifetime of Disneyland knowledge and enthusiasm – to have completed my first novel, Disneylanders, a middle-grade fiction book set in Disneyland park.

Please contact me using the e-mail tab or at kate (dot) abbott (at) sbcglobal (dot) net for a synopsis, sample pages, or the full Disneylanders manuscript.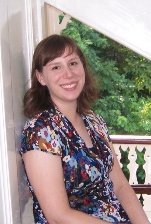 On the Mark Twain at Disneyland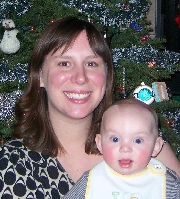 ...and with Henry at home.